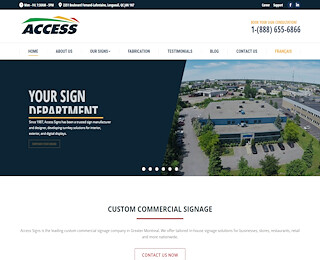 You have chosen the ideal location for your store and now you need to provide signage so that customers can find your business. There are a few things to consider when choosing business signs in Montreal. First and foremost, you need to make sure that you provide a sign that is visible from the street. Before deciding on the location of your sign you should step outside of the store and stand across the street. Walk along the street to see where the sign would be most visible. You can also do the same by driving along in your car. Once you know exactly where you want to place the sign, you can continue the process.
Business Signs in Montreal
The building structure of the business space will help to determine the type of sign that you need to order. For example, you may need large, illuminated lettering or might have an awning that is used for signage. In some cases, you may require more than one sign and sometimes more than one type of sign. It is important to make sure that your business name can be viewed from all angles and in all types of light conditions.
Once you know the placement and sizes of your signs you can begin to work with the design specialists to create the look of your business signs in Montreal. Try to choose the best quality sign you can afford because it will last for many years. Choose an experienced sign company so that you can be sure that the sign you choose will be installed properly and will last for a long time without the need for repair.
Create Your Company's Image
The sign on your business should be a reflection of your company's image. If you already have a company logo you may want to utilize it on your sign. There are plenty of other options for business signs in Montreal as well. The sign design expert will work with you to create a sign that looks good and represents your business. You can get some ideas by looking online and at other shops with similar store fronts or buildings.
Signs can be completely customized to your requests so you can choose the style, color and size that will work best for your situation. The designer will provide you with a drawing that you must approve before the sign is fabricated. Once complete, the sign will be shipped and expertly installed. Whether you need large, lighted letters, flat signs or awnings, you will find the custom signs you need at Access Signs.
Access Signs offers high quality professional custom signage in Montreal. We work with you every step of the way to design the exact signs that will meet your needs. Our signs are fabricated specifically to your requirements and will provide you with lasting benefits with little need for maintenance or repair. We work with installers across the country so we can provide signs across North America. Visit Accessigns.com to learn more about the many custom sign choices.
Business Signs Montreal